Help us with an opportunity to receive some free advertising from the Boston Globe.
Are You Looking For A Ride?
---
The Greater Salem Caregivers is a non-profit organization which provides rides for people who can no longer drive. Do you or someone you know have appointments that you need to get to and you no longer have the ability to drive? We are here to help you. We have volunteers who will come to your place of residence and will pick you up and bring you to your appointment and wait for you until you are ready to go home. We also provide transportation if you have to run errands, go grocery shopping, etc. View Our Full List of Services →
Email us for more info: salemcaregivers@gmail.com
Become a Volunteer
Do you want to help? We are always looking for good people. Contact us today!
Call: (603) 898-2850
---
Email Us
Thank you Greystone Farms!
---
During the heat wave of mid-August on a hot and muggy Friday, the Greater Salem Caregivers had a surprise visit from a bus load of residents from Greystone Farms. They delivered "Hydration Baskets" filled with water, cookies, raisins, and flavored ice pops, all meant to help the elderly cope with the heat. The Caregivers were asked to distribute the baskets to clients who could use them to deal with all the discomfort.
The Caregiver clients were delighted to receive them and were very grateful to the residents at for their thoughtfulness. The Caregivers would also like to also thank Patti, Greystone's Program Director and the residents for their outreach to the community.
Greystone Farms is an Assisted Living Facility located on Main Street in Salem.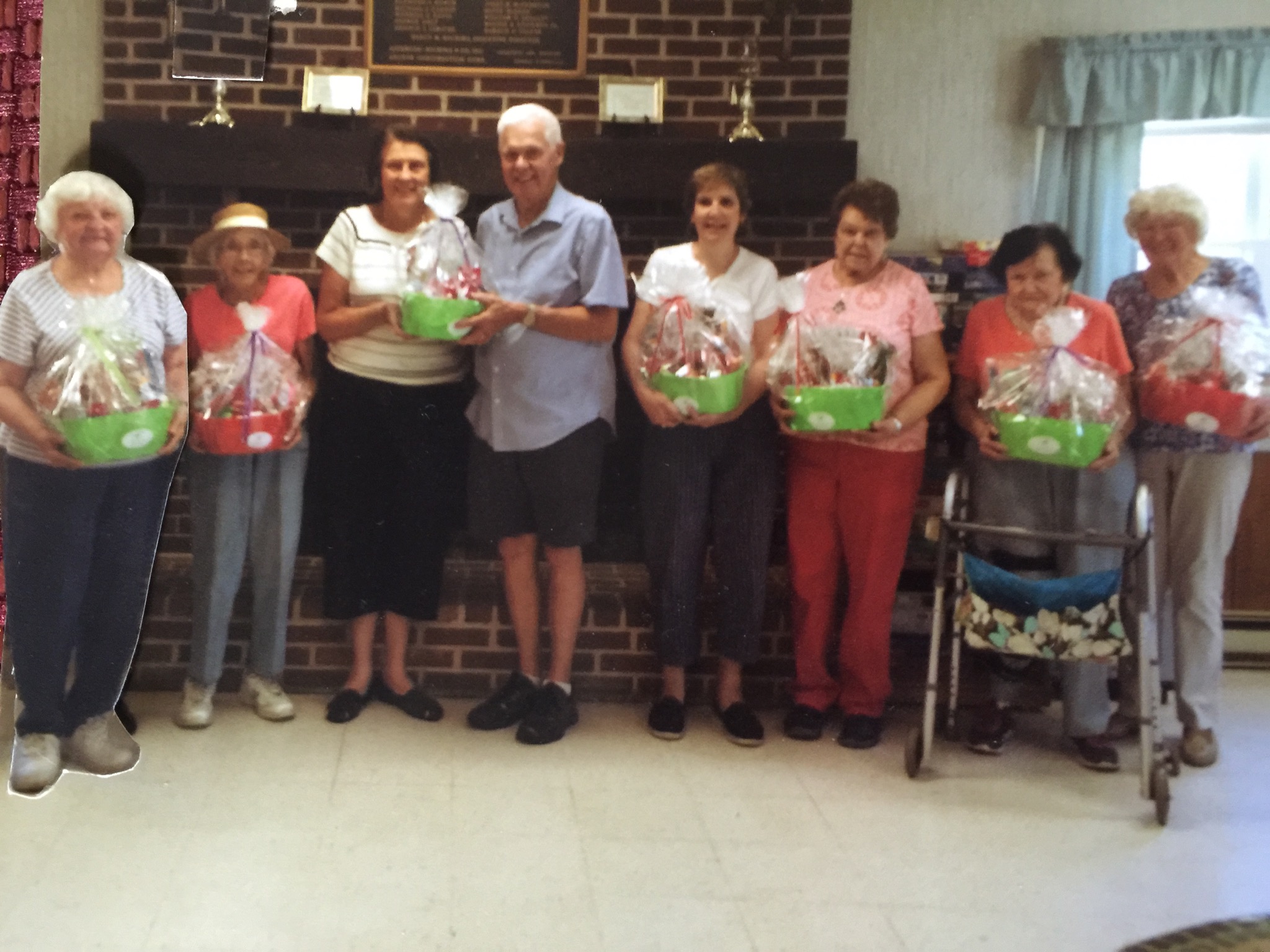 Center: Doris Neibert – Program Director Caregivers
Dick O'Shaughnessy – Ex. Director Caregivers
Plus Residents of Greystone Farms
Sign-up for Our Newsletter
Our seasonal newsletters help keep our friends and clients informed of what the Salem Caregivers has been up to and what new events are on the horizon. So please fill out the form with your name and email address so we can add to our email list.